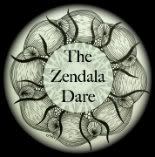 It is so hard to believe that we are already at week fifteen of Erin's Zendala Dare! I love doing this challenge every week. I was so busy last week - working on a new facebook page and working on my blog - I just never got around to last week's zendala. I plan on doing it later today so I can get caught up :). Above is the template Erin gave us this week. It reminded Erin of candy. To me it looked like Christmas packages and I was determined not to tangle a bunch of packages.
So I just started thinking about random patterns that would work well in lines. And I switched a few of them up to make it work even better. Threw in a couple of my own patterns and this is what I got. Hopefully it isn't too random, but at least it doesn't look like Christmas paper - haha! (Actually I love Christmas paper, I just didn't want to do the expected.)
Patterns - auraknot, hollibaugh, crossroads, muzic, melody/variation, newell, woods/weave mixed together, knightsbridge/variation, fescu, and my patterns blox and pipez.
To check out all the zendalas, head on over to Erin's page The Bright Owl

here

.