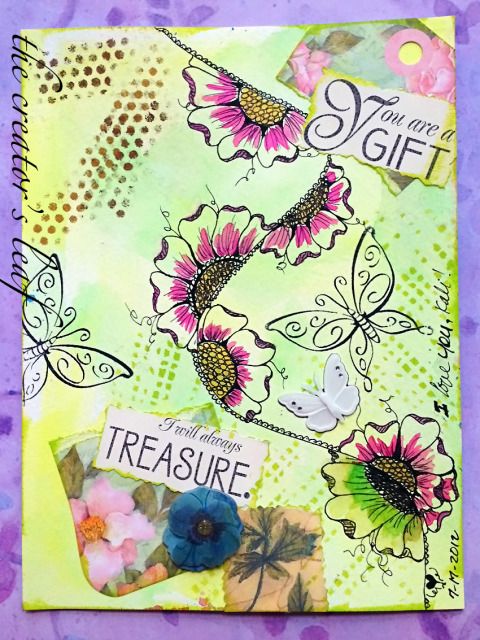 Lately Kali has been making an art journal. She's using an 8" x 6" three-ring binder and making her own pages to go in it. She asked me to make a couple pages she could put in her book - so I did.
I cut an 8" x 6" piece of watercolor paper and got started. Above, I used a simple watercolor set and slapped on some yellows and greens for a background. No rhyme or reason - just get the paint on the page :). I used a stencil from TCW (TheCraftersWorkshop.com), some drywall tape, a dabber and some Studio G inkpads to lay down some background pattern. I tangled the flower line next, added some Twinkling H2O paints on them, and drew in some spiraled vines. Stamped a couple butterflies, attached some tag and flower art and was pretty much done with my first side.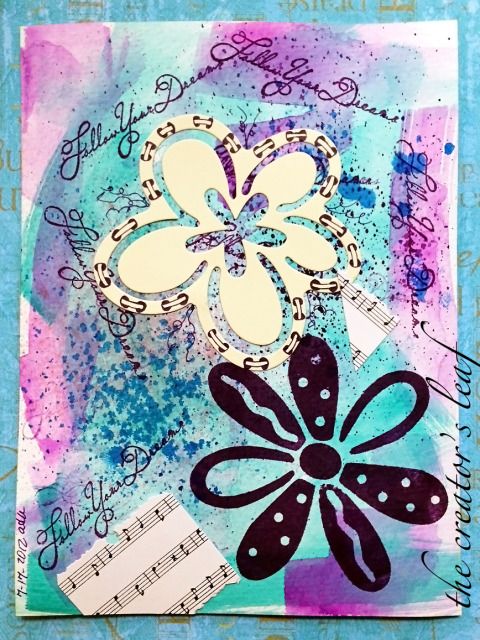 Then I flipped the page over and worked on the back. I started the same way - by watercoloring some blues, teals, and magenta for a background. I sprayed on some raspberry Inkadinkado spray ink, sailboat blue Jim Holtz color wash, and some purple twilight Jim Holtz color wash. (I like the inkadinkado colors, but now all 10 fingertips are pink and I can't get the color off.) I used some stamps, a Sizzix punched flower, and an old music tag - no idea where it came from. Sorry. And I tangled some laced around the flower edge. Super simple page and Kali loved it!
Easy. Simple to do. Fun. I need to do more of this!