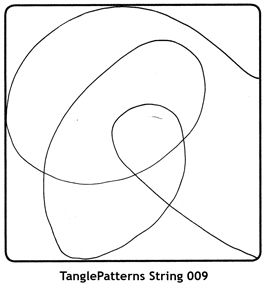 Tangle Patterns is hosting another string this week, the offering of Sue Zanker.
My first tile came together really quick! I decided to just tangle along the string with pokeleaf. Then I added the background of blox - one of my tangles. I'll try to add the steps once I get them drawn out.
Second offering - an assortment of tangles. Cadent, hollibaugh, yincut, swarm, scallops.
Both tiles watercolored with a child's paintset from Wal-Mart. Haha! It works great! I also used Pitt Artist Markers in the first. You can see the string tiles at Tangle Patterns flickr page.