Earlier in the week I happened across a blog called

Just Add Water Silly!

Jenn offers a weekly challenge in the form of The Artist's Playroom. This week's challenge was to get back to the basics, grab a pencil or pen, and get to sketching.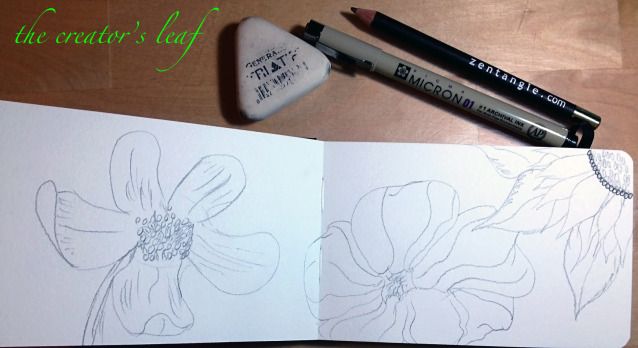 I have to tell you that I really didn't want to try this. I can't draw. At all. I can zentangle some, but I can not draw. My daughter told me that maybe Jenn invited me to try the challenge because she wanted to challenge me! Maybe she wanted me to push my limits, and therein learn something. So I tried.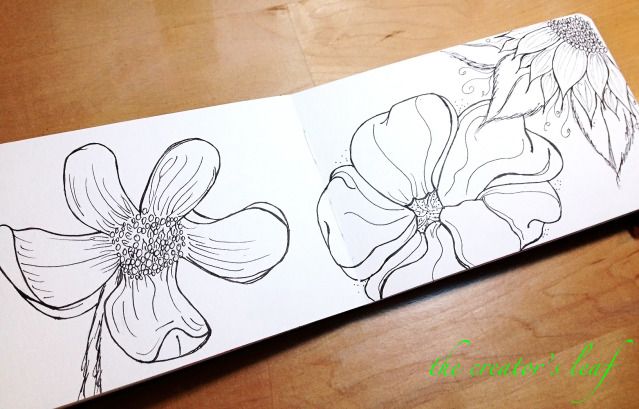 I began by studying other drawings on - what else? - pinterest :). From what I deduced there, I sketched out three basic flowers in my little moleskine watercolor journal. I figured I wouldn't go too big and bold the first time out.
After I had my flowers sketched out in pencil, I went over the lines with a 01 black micron pen.
I filled in my basic sketch lines a little and tried to emphasize certain lines. (I have no idea at all what I'm doing. Totally winging this thing!)
Then I watercolored. First I used some old metallic water color paints I found in a drawer. They don't even have a brand name on them. They sparkle - which I am all about the sparkle, so they are perfect!
Next, I used my Derwent Inktense Pencils (which I use on everything) and watercolored the flowers and leaves. Then I looked over my drawing, touched up lines that had gotten somewhat obliterated in the process, and pumped up the sparkle here and there.
Voila! And there you have it - my very first drawing/sketch/watercolored real thing ever! Yay!!!!!!
Thanks, Jenn, for inviting me to participate. You can count on me to be a weekly visitor :).
Feel free to visit

The Artist's Playroom

to see submissions from artists that actually know what they are doing :). It isn't too late to participate yourself!